Okay I have to admit my Yard is actually really lame this year. As in only one sad sign on the whole yard saying Trick or Treat. But I thought I'd share for Yard Envy pictures that I found only. Yay Inter-verse.
Above is only of my favourite things I've every seen in a yard. I found this a few years ago circulating the internet and have loved it ever since. Every year I say I'm going to make one but I haven't yet. Maybe next year will be the year.... who knows. I found the image on
FunMozar
but it didn't reference the original piece. So if any of you know who actually made these or where they are from please share in the comments.
I know a lot of people who have issues with Spiders. I found this image on
Pinterest
, but again the original was hard to trace down being it's a share from a share, etc. I think this would be fun and pretty easy to put together. You mostly need two big black balls for the body and the head area of the spider and then yarn or wire or humongous pipe cleaners (hehe) for the legs. The nice thing is that these would take too long to put up and take down. I wonder how many kids I would get though?? Maybe too spooky.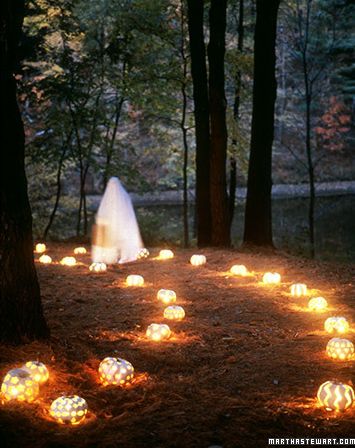 This ghost walk made me giggle, stating to be originally from Martha Stewart, I found the image on
One Stop Party Ideas
. It wouldn't be hard to decorate a bunch of pumpkins with circles or wiggles. Heck you can usually use a Melon Baller to do pretty easy circles so that's nice. Once carved I usually used the plastic "candles" because unlike real candles they don't burn out and they won't set your house on fire... two things that I'm just klutzy enough to have to deal with.
This last one I found to be kind of cool. They use doll dresses (or you could use kids costume dresses) and hung them from a tree, lighting them up with outdoor lights. It's just so original and cool that I may have to try it. I found this picture on
Pintrest
but it had a faulty link. Sad. Either way it's really neat and wouldn't take a long time if you are like me and doing last minute decorating.
Well I hope you all have found some decorating inspiration. I'd love to see or hear some of your decorating ideas.
Until next time.
Keep on, Geekin' on
Angie